August 14, 2012
STAFF/STU
---
To:     The John Carroll Community
From: Robert L. Niehoff, S.J.
RE:     Murphy Hall
Date:  August 13, 2012
I am pleased to announce that the University is planning a renovation project that would modernize and transform Murphy Hall.  Construction would be anticipated to start in the summer of 2013.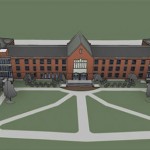 Making this investment allows us to be more strategic with our long-term maintenance and student housing costs. Because Murphy is the largest and most outdated residence hall on campus, it does not make economic sense to perform the maintenance and repairs required on Murphy Hall in a piecemeal way. Feedback from prospective students and parents (including alumni who lived in Murphy) also make it clear that this renovation should be done as quickly as possible.
A newly renovated Murphy Hall helps us compete more effectively for talented students. In addition to providing the suite-style amenities comparable to other institutions that prospective students have come to expect, plans for the new Murphy Hall include dedicated study areas, improved accessibility, and modern gathering spaces. Improving the living conditions would have a positive impact on our campus and would help us continue to provide an outstanding overall John Carroll experience.
Murphy would be our first 21st century residence hall, and as such I want to emphasize that we are taking a fiscally responsible approach in our plans to modernize this building. Current market conditions allow us to consider several favorable funding opportunities. We also want to proceed in a way that preserves the Gothic architecture that is part of our John Carroll identity and to think more about sustainability as part of our planning. We anticipate this would be our first LEED-certified campus building.
As we develop this planning process, it is our intent to have the building back online for the Fall 2014 semester. Taking Murphy Hall offline for the 2013-14 academic year (a tight construction schedule) requires significant planning and communications with the city, our students, and their families. This planning work has already begun, and regular communications will be shared as this planning process unfolds, including the creation of our Murphy Hall Renovation website where updates will be posted regularly.
As we begin the review process with the city, I am excited to start taking the residential student experience at John Carroll to the next level. May God bless our new academic year, our campus community, and our project partners as we proceed with our plans for this renovation. This project will significantly enhance the student experience and benefit our University for years to come.